5" x 7" and 8" x 10" prints of "James Asleep" & "Blueberry Mouse" are available through CWJ Designs - will fit standard matts and frames. Custom sizes & framing available upon request. Please or call for options.
For more information about The Alexander Knight House
Project visit: ipswichknighthouse.org
"The Knight House Mouse"
Illustrated Notecards from The Knight House Mouse Story Book.

Four subjects, blank inside, 5.5"x 4.25"w/white envelope - available individually at The Weather Horse Studio, Crowover Farm.
The Knight House Mouse Story Book
The Knight House Mouse is an illustrated story book about James, a young and curious field mouse, who observes a Housewright constructing a small, First Period, timber framed house in 1657. The story features James' adventures with Everett the puppy along with descriptions of early building techniques; inspired by the Knight House project at the Ipswich Museum. Visit James and Everett at knighthousemouse.com to read an excerpt from the story!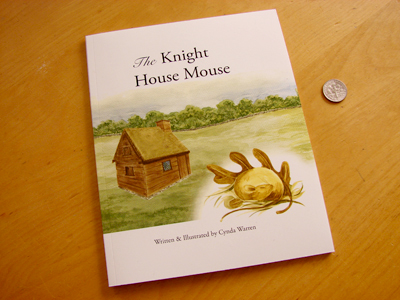 Published by CWJ Designs
Printed by ex∙Pressive Print & Promotion
Copies available for purchase at:
Ipswich Museum Store
1 South Village Green, Ipswich, MA 01938

ex∙Pressive Print & Promotion
51 Main Street, Ashburnham, MA 01430
The Weather Horse Studio
178 Hastings Road, Ashburnham, MA
Please or call 978-827-4874 for options.