Knight House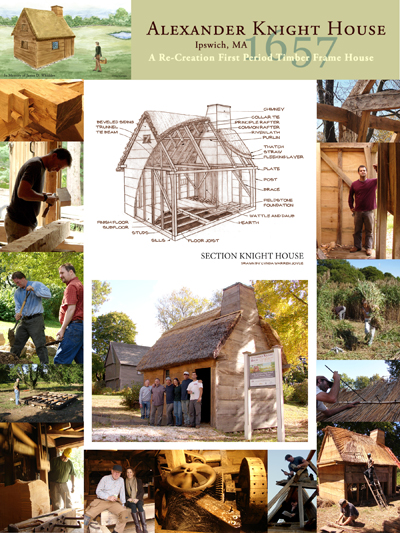 Project: The Alexander Knight House team, along with many others, have worked to re-create an early, English-style timber frame house from 1657; built with traditional tools, materials and construction methods of the First Period (1625–1725).
This team of fine craftsmen, builders and designers share a keen interest and knowledge of early architecture and are providing this gift of the past to the Ipswich Museum for present and future citizens. The donated structure is a permanent exhibit on the grounds of the 1677 Whipple House offering a chance to see and experience how an ordinary person lived in the Massachusetts Bay Colony. Special hands-on opportunities will be possible in this re-created house; in a way that the Museum's historic and fragile buildings cannot accommodate.
As a member of the AKH Team I provided documentation of the work with photography, videography, the website, blog, facebook page, designed the brochure, and sometimes brought lunch. Working on site, between photos, I cut mortises and tenons using chisels and mallets. I was able to source and procure historically correct wide pine and white oak appropriate for the building. Some of the materials required authentic sawing at water powered sash sawmills and I had the immense pleasure of contacting and arranging the work to be done at two different mills. During the processes, many days and hours were spent meeting and working with some very talented, wonderful people-too many to mention here. They can be found on the Knight House website along with lots of information and photographs about the process. Also in the article I wrote for the Timber Framers Guild publication, September 2013 issue.
My involvement in the Alexander Knight House led to writing and illustrating The Knight House Mouse Story Book in memory of my friend James, who was the original housewright.